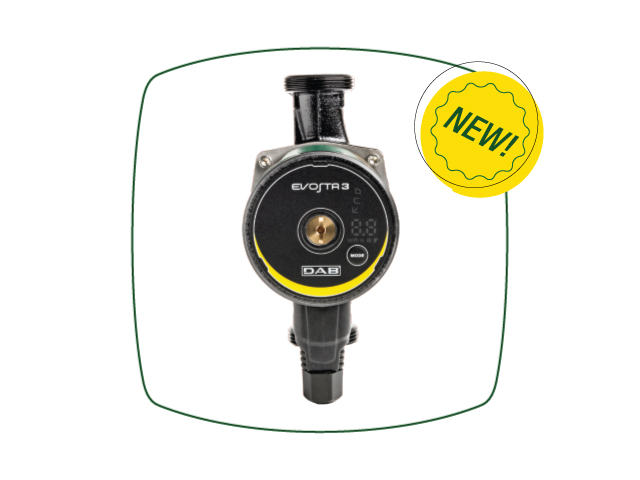 EVOSTA 2 & 3 - Product Course
---
Low energy consumption electronic pump for water circulation in all types of domestic heating and cooling systems.
The new range of EVOSTA 3 circulators by DAB combines the strength of an mechanical circulator with the benefits of the electronic circulator. Thanks to the permanent magnet synchronous motor, the frequency converter and the energy efficiency of EEI ≤ 0.19, as well as the protection class IPX5 and the integrated bleeding plug, the EVOSTA 3 family ranks as one of the best products in the category in terms of performance and reliability. The range of EVOSTA 2 & 3 circulators is the perfect replacement for old three-speed circulators due to its compact size and all-round performance. The product is also extremely user-friendly, with a single button for sequential setting and direct access to the motor shaft for unlocking it when necessary.
The electronic circulators range is going to live an authentic revolution: DAB is launching into the market the new Evosta 2 & 3 and Evosta 2 SAN. A gripping spystory will guide you to the discovery of the main features of this product.
Course arguments:
IPX5 LEVEL OF PROTECTION: This level of protection prevents water from reaching the mechanics and especially the electronics: minimised failures and maximum housing comfort.

AIR VENT CUP: Domestic circulator with front electronics and air vent cup for a confortable access to the motor shaft when the rotor is blocked. Evosta 3: easier maintenance, calmer work

STAINLESS STEEL MOTOR CASE: Designed with antioxidant materials even in case of conditioning which ensures maximum comfort and long term.

MAXIMUM PERFORMANCES, MINIMUM ABSORPTION: Smart energy new concpets and VFD( Variable Frequency Driver) have improved the energy performances taking the efficiency index EEI a ≤ 0.18 lower than previous.
Course date:
- 01/05/2018 - Italian - English - French - Spanish